Uncompromised Functionality
UConnect Systems
The available Uconnect® Theater features a dual-screen Entertainment System packed with built-in games and apps. Or, sync up your compatible devices for instant fun. And with the available Uconnect® 8.4 NAV, you get access to GPS Navigation as well as SiriusXM® Traffic and SiriusXM Travel Link, both with a five-year trial included. With these services you'll get access to real-time traffic, weather updates, sports scores, fuel prices and more.
Safety and Security
Get efficiency without compromise. This ride offers all the amazing safety and security features of the Chrysler Pacifica like available Forward Collision Warning and available LaneSense® Lane Departure Warning with Lane Keep Assist. Both of these features are part of the available Advanced SafetyTec™ Group.
Convenience

As a parent, you have enough to deal with. That's why the Chrysler Pacifica Hybrid can be equipped with the available Parallel and Perpendicular Park Assist System (included in the available Advanced SafetyTec™ Group) that helps you park in tight spaces. In addition, the available hands-free power sliding doors and hands-free power liftgate make loading your family and your stuff quick and easy.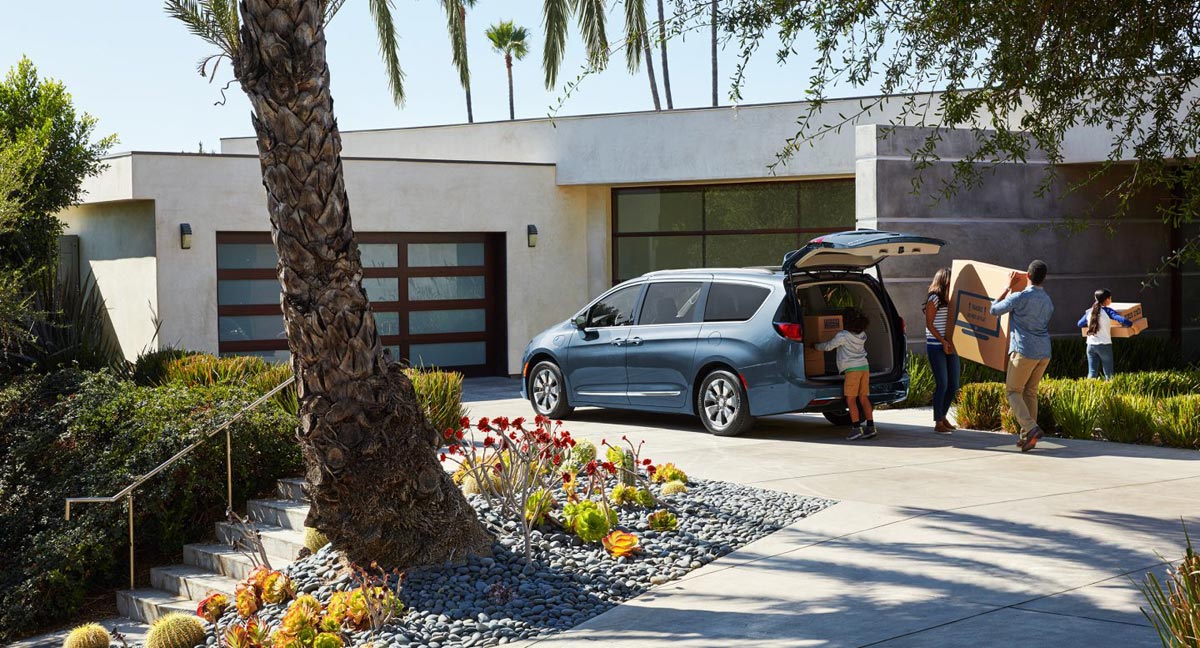 Fuel Efficiency
84 MPGe
Cut back on your gas station detours. The Chrysler Pacifica Hybrid gets 84 MPGe when using both electricity and gas.
566-Mile Total Driving Range
Drive without range anxiety. The Chrysler Pacifica Hybrid has a total driving range of up to 566 miles for those long weekend getaways.
33-Mile Electric Driving Range
Spend less at the pump. The Chrysler Pacifica Hybrid can drive up to 33 miles on a single electric charge
, making it easier to run most of your errands without using any gas.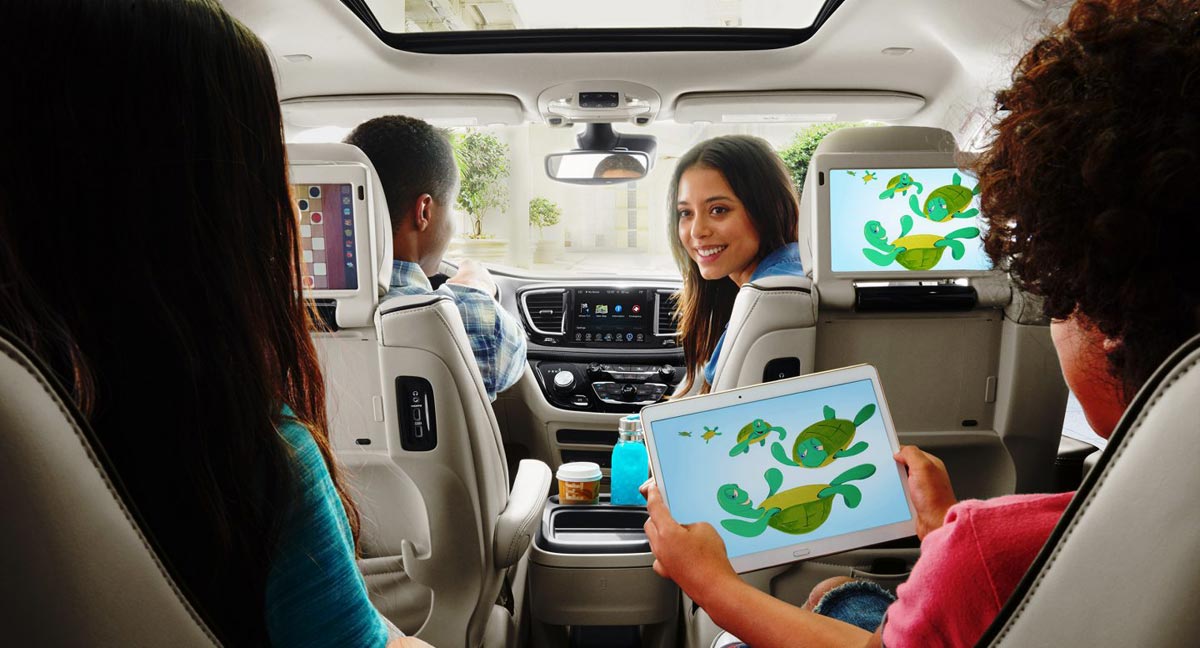 How It Works
Electric + Gas = One Smart Minivan
The Chrysler Pacifica Hybrid offers the best of both worlds. Powered by an electric motor and gasoline engine, it automatically switches between electric power and hybrid power. Now it's simple to get the efficiency you're looking for with a surprisingly extensive driving range.
Battery
The lithium-ion battery is the heart of the Chrysler Pacifica Hybrid. It works seamlessly with the engine to deliver optimal efficiency. Strong enough to power the vehicle for up to 33 miles on a single charge, it can be charged in as little as two hours with an available 240-volt Level II charger. The battery has a 10-Year/150,000-Mile Limited Warranty or a 10-Year/100,000-Mile Limited Warranty depending on what state you live in.
Charging
Charge your battery at home in just two hours with an available 240-volt Level II charger, or plug into a typical wall outlet with the 120-volt cable that is included with every Pacifica Hybrid-either way you can't go wrong. The battery even self charges via regenerative braking, which captures energy from the brakes when they are applied. Plus, thousands of public charging stations are available nationwide.
MOPAR® Charger
You have more important things to do than wait for your minivan to charge. Good thing the available 240-volt Mopar® charger (sold separately) lets you fully charge your Chrysler Pacifica Hybrid in just two hours. Simply order the charger through your dealer and have them set up an appointment for professional installation. It's that easy.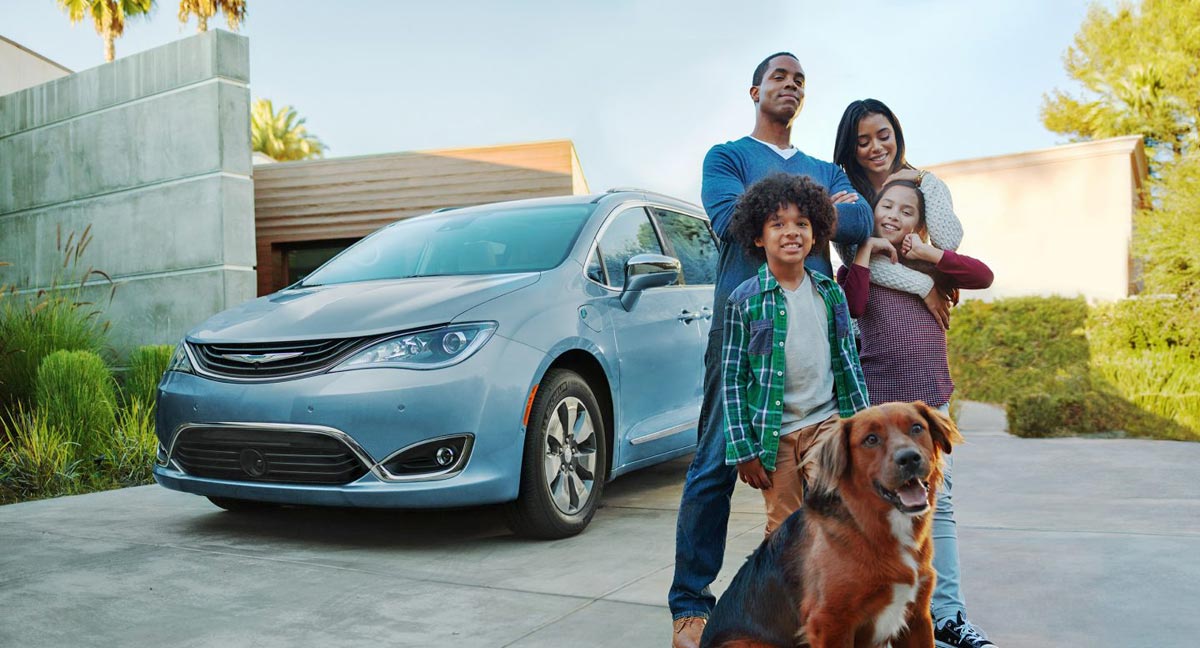 Features
UConnect Touchscreen
It's never been easier to be in tune with your ride. The Uconnect® 8.4 touchscreen lets you see your vehicle's performance-both hybrid and electric, adjust your charging schedule to run during less expensive off-peak hours, view your power flow and more.
Coaching Tool
If you're going to drive a hybrid, you want to optimize your fuel efficiency. The Chrysler Pacifica Hybrid helps by telling you when you're driving efficiently with a small green light. When you push performance outside the eco-friendly range, the light turns white. It's like a caring coach-always ready to guide you.
At Your Fingertips
Stay connected to your Chrysler Pacifica Hybrid from anywhere. View a driving history report, see your vehicle's charging progress, locate a charging station and more-all from the convenience of your phone.
Enticing Design
The interior of the Chrysler Pacifica Hybrid is designed to impress. With spacious seating for seven, ample cargo space and an eco chic design, the Chrysler Pacifica Hybrid is as family friendly as it is environmentally friendly.
Tax Credits
The gas pump isn't the only place you'll see savings. When you purchase a Chrysler Pacifica Hybrid, you may qualify for up to a $7,500 federal tax credit-the full amount allowed thanks to the full-size battery. You may even qualify for state or city credits.