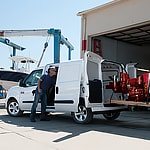 The new Ram ProMaster City leads the way in the cargo van and passenger wagon market. It comes with renowned durability features that make it one of the most powerful vans on the road today. Learn how these features combine to offer you the best driving experience today.
For all of its size, the new ProMaster City from Ram makes backing up and parking easy thanks to its integrated backup camera. This camera activates automatically when you step on the brake and put your van in reverse. You can see what is behind your bumper and in your path as you back up out of your driveway or a parking space.
The new Ram ProMaster City also has ample room in the middle and back end for a wide variety of cargo. You can load and take with you everything from your favorite sporting gear to large loads of groceries without compromising passenger space.